MEDICE
The European project MEDICE aims to facilitate the access of migrant women and their children to the healthcare services in five European countries by developing innovative language learning tools related to healthcare issues. The two-year project brings together organizations from Iceland, Czech Republic, Poland, Cyprus, and the UK.
Migrants across Europe have lower health literacy and poorer health outcomes than the general population. One reason is a language barrier, and low awareness of the healthcare systems in their host countries. According to the Report "Promoting the health of refugees and migrants" (WHO, 2017) women and children are particularly vulnerable to health problems. Migration and displacement then pose specific health threats for these individuals.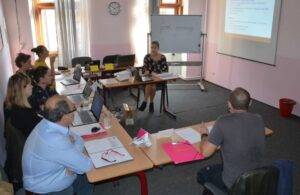 The main goal of the MEDICE project is to facilitate the access of women migrants to the healthcare services of their host countries by providing specific information about the national healthcare systems. The project products will also help them develop basic language competences necessary for easier access to these services.
As a consequence, the women will be able to explain adequately their medical needs, improve their confidence to search for medical advice, follow medical guidelines, attend medical appointments etc.
During the project, an e-map of national healthcare systems of Iceland, Cyprus, Czech Republic, Poland, and the UK will be created. This map will provide women with a basic overview of the types of healthcare facilities, their services and formal healthcare requirements, including health insurance and fees. Migrant women will also receive country-specific information for the process of seeking and receiving medical help. This material will be available in 15 languages, including those of the most numerous minorities of the partners' countries, such as Arabic, Russian, Thai, Romanian, Ukrainian etc.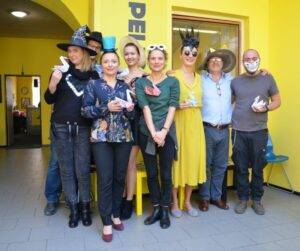 Other project outputs include language learning tools, such as e-glossary and healthcare multi-languages packages, which will support migrant women in their learning of the host country language in relation to women and children health issues, diseases and lifestyle, healthcare issues like regular check-up, vaccines, preventative medicine etc.
These materials will be available in both textual and audiovisual form, and will introduce women with carefully-selected health-related terms and phrases. The project will also provide a mobile app that will enable women to get this information quickly and easily, if needed.
The project outcomes will also be accessible to language educators, teachers, and staff of organizations involved in the integration of foreigners free of charge through the Interactive Online Open Educational Resource Database.
These tools will also help healthcare providers to overcome communication barriers resulting from the poor language skills of migrant women, reduce misunderstandings, and offer adequate medical help. This is particularly important for medical staff working at refugee camps and hospitals offering medical help to migrant women.
Assisting migrant women to acquire healthcare language skills in their host countries will further improve their integration and social inclusion in the local society.
Project partners:
ASTOFAN (Iceland)
Spolek PELICAN (Czech Republic)
Mosaic Art and Sound (Great Britain)
SYNTHESIS Center for Research and Education (Cyprus)
Społeczna Akademia Nauk (Poland)